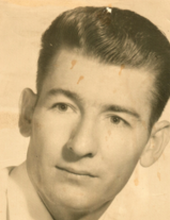 Obituary for Bill Morgan
Bill G. Morgan, 86, passed from this life on August 3, 2017 in Cleveland, Oklahoma. He was born July 26, 1931 in Milton, OK to parents Willie and Gertrude (Nixon) Morgan.

On April 29, 1954 Bill married the love of his life, Shirley Douglas in Okemah, OK. They enjoyed 63 wonderful years together sharing so many joyous times. Bill worked as a machinist and was always tinkering on a project. In his younger years he enjoyed a good coon hunt as well as playing on his fiddle. Above all though, he enjoyed playing and teasing his grandchildren who always gave it right back.

Bill is survived by his wife, Shirley of the home; sons, Rick Morgan and wife Dawn of Tarleton, OK, and Don Morgan of Terlton, OK; grandchildren, Heather Deann Wallace, Richard Morgan Jr. and Jenifer, Adam J. Morgan and wife Jennifer, Stephen E. Morgan and wife Michelle, Dakota Blake Morgan, Justin R. Morgan, and Christina M. Melton; great grandchildren, Lacey, Naudia, Kadence, Lillian, Emmalyna, Barrett, Jimmy, Haley, Mikayla, Teagan, Justin, Chance, Ricky, and Mickie; niece, Rebecca Elix, and numerous extended family members and special four legged companion, BeBe.

He is preceded in death by his parents; one son, Douglas Jerrold Morgan; two brothers, James R. Morgan and Leslie Morgan; sister, Annis Oaks and daughter in law, Cheryl Ann Morgan.

Viewing will be held from 11:00 a.m. to 8:00 p.m. on Monday, August 7, 2017 and Tuesday, August 8, 2017 from 9:00 a.m. to 11:00 a.m. at Dillon Marler Dighton Funeral Home, 1200 North Cleveland, Sand Springs, Oklahoma 74063.

Graveside Service will be at 1:00 p.m. on Tuesday, August 8, 2017, at Woodland Memorial Park, 1200 North Cleveland, Sand Springs, Oklahoma 74063.
Previous Events
Viewing
Dillon Marler Dighton Funeral Home
1200 North Cleveland Ave.
Sand Springs, Oklahoma 74063
Viewing
Dillon Marler Dighton Funeral Home
1200 North Cleveland Ave.
Sand Springs, Oklahoma 74063
Graveside Service
Woodland memorial Park
1200 N. Cleveland
Sand Springs, OK 74063